The cannabis plant is home to a spectrum of nutrients that enables it to heal and protect the skin. The potent cannabinoids of the plant also help fight the effects of harmful factors like environmental stressors and pave the way for healthy skin. CBD or cannabidiol is one such wonder ingredient that is revolutionizing the skincare industry with some remarkable benefits.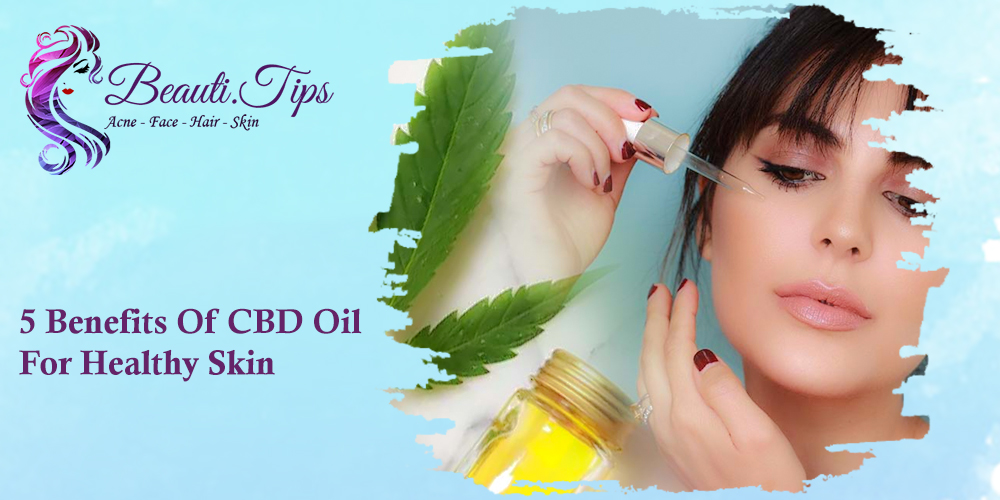 CBD oil is the latest buzz in the cosmetics and beauty industry, where it exhibits skin-boosting properties. The oil is easy to include in a regular skin care regimen to relish the many incredible benefits it provides for the skin. Here are five practical ways in which this miracle ingredient can influence skin health.
It Can Alleviate Signs Of Aging
Ageing signs are a threat to the health and wellness of the skin. The increasing environmental stressors such as pollutants, dirt, dust, and sun rays affect the skin in several ways. It blocks the pores, corrupts the texture and look of the skin, and causes permanent damage to the cells. With time, our body loses the capacity to heal and replace the damaged cells, which causes age signs. Some of them include hyperpigmentation, dullness, dryness, wrinkles, age spots, dark spots, dark circles. CBD can play an influential role in assisting the body to fight the age signs and enhance health.
CBD oil brims with antioxidants that aid in reducing the effects of oxidative stress in the body. It can repair skin damages caused by age and other factors. The plant also contains omega fatty acids that may help nourish the skin's surface with optimum moisture and hydration that protect the organ from further damage. Moreover, It can also stimulate collagen production and reduce dehydration from the skin surface that can enhance overall health and looks. It also has anti-inflammatory properties and supports cell regeneration that can reverse age signs' effects on the skin and prevent further damage.
It Can Provide Hydration And Moisture
Hydration and moisturization are the two major requirements for your skin to look gorgeous and stay healthy. Providing optimum moisture levels is essential to retain the oil balance on the skin that contributes to a flawless glow. Dry skin is a widespread problem, especially during cold weather. Skin that lacks moisture or hydration is prone to damage. The skin cells are weak and start exhibiting signs of damage such as cracks and a withering look. Lack of hydration increases the chances of developing early age signs, such as wrinkles.
CBD is a potent cannabinoid that can help fight dry skin. The oil is enriched with omega fatty acids that provide perfect moisture to the skin. Consuming CBD oil capsules regularly can be useful to promote oil balance. You can shop for Pure CBD capsules. It is also rich in vitamin E that nourished the skin. Apart from providing moisturization, it interacts with the skin's CB receptors to naturally trigger oil secretion and balances oil levels that promote good skin health.
CBD also plays a crucial role, not just in nourishing the skin, but also in retaining it. The compound's potent humectant property enables it to absorb moisture from the environment and provide it to the skin. The process makes sure that the effects of the moisturizer or cream stay for a long duration, and the skin remains well hydrated throughout the day.
It Can Treat Skin Ailments
Suffering from skin ailments such as eczema or psoriasis can be frustrating. Psoriasis is an autoimmune disease caused by the immune system's overactivity that begins to kill healthy cells. CBD interacts with the endocannabinoid system to promote balance. This interaction helps in balancing the functioning of the immune system that helps to treat autoimmune conditions. It also provides nourishment to the areas of the skin affected by the ailment.
The anti-inflammatory benefits of CBD can also provide an effective treatment to ease Eczema. It is a condition that leads to redness, inflammation and cracking of the skin. About 1-3% of adults and 15-20% of children suffer from the condition worldwide. A natural and effective treatment such as CBD can improve millions' lives suffering from minimal side effects.
It Can Fight Acne
Acne is one of the biggest skin concerns. Several factors contribute to the formation of acne. It includes puberty, hormonal changes, diet, stress, infections. These factors promote the overactivity of the sebaceous gland. It leads to ane cysts' formation that causes inflammation and scars, which can be painful and irritating. While oil secretion is crucial for keeping your skin well moisturized, over secretion tends to attract pollutants and clog pores that could worsen the problem. CBD is a powerful ingredient that can help curb the acne problem.
CBD exhibits anti-bacterial properties that help to reduce acne formation. It also has anti-inflammatory properties that prevent the formation of excess sebum. The cannabinoid acts on various factors that induce acne, such as hormonal imbalance and stress. It promotes the body to achieve homeostasis where there is a proper balance of hormones. Utilizing CBD helps individuals feel relaxed and calm to manage stress efficiently to reduce the risk of developing acne. CBD oil may also act on acne scars and promote cell regeneration.
5. It Is Suitable For Sensitive Skincare
Having sensitive skin can be the biggest challenge while choosing skin care products and regimens. While it is not an ailment, it could indicate genetic conditions and increase eczema, allergies, or inflammation. Individuals with sensitive skin have to suffer a great deal while experimenting with skincare and beauty products, as many of them tend to cause flare-ups, redness, and acne. The harsh ingredients such as chemicals could damage the skin excessively. Even washing frequently could cause itchiness and dry out the skin.
CBD oil is one of the best ingredients to use for individuals with sensitive skin. Skincare products infused with CBD induce anti-inflammatory properties that help to reduce flare-ups and redness. Also, the presence of natural cannabinoids takes care of the skin by providing necessary nutrients. A few drops of CBD oil mixed with a preferred moisturizer or scrub can be an effective way to nourish and protect sensitive skin.
Conclusion
We spend a lot of money on beauty and cosmetic products to keep our skin healthy. It is the largest organ of the body that protects it from various environmental factors, and hence paying attention to skin care is crucial. Using natural and potent products infused with CBD can be a simple yet effective way to curb skin woes and enhance skin health.